In coordination with the Iraqi Minister of Justice , Dr. Khalid Shwani
NIC Chairman, Dr. Haider Makkiyah, confirms
Settling the matter of defining the housing units in Bismayah project with issuing possession bonds for buyers
Adopting a mechanism to define the housing units of vertical order which shall be implemented outside Baghdad borders
Preparing an adequate place in Bismayah city as an observation building for real estate registration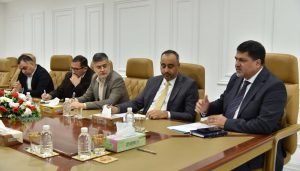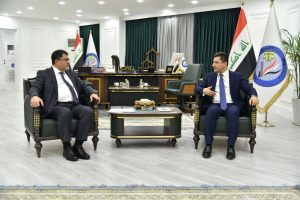 An elaborated meeting was held today Thursday, 2nd of Feb.2023 in the Ministry of justice premises with the attendance of Dr. Khalid Shwani, Minister of Justice and Dr. Haider Makkiyah, Chairman of the National Investment Commission and a number of the concerned officials from both sides, during the meeting an agreement had been reached to define the housing units of Bismayah city project and issue the possession bonds for buyers in an exception from the real estate registration law.
The two sides also agreed to adopt a new mechanism to define the housing units of vertical order which shall be implemented outside the borders of Baghdad as a big support for the process of marketing these projects.
There was a confirmation during the meeting to support the department of real estate registration of Bismayah city project after providing the needed building and other needs, enabling it to act its role in the proper way that can match the expected rise in the numbers of registrars
This new NIC moves come to solve the problems facing housing projects in Iraq in general, within the framework of the serious plans to support this vital sector harmoniously with the governmental programs
Worth mentioning that the meeting was also attended by a number of DGs and concerned members from the Ministry of Justice and NIC.