During her meeting with the chancellor of Baghdad University…
Suha Dawood Najar: the history of Baghdad University makes it qualified enough to be a supporting and supervising side for investment projects.
Najar: Baghdad University has solid academic experience from which we are keen to benefit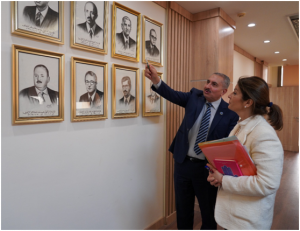 NIC Chairwoman, Suha Dawood Najar, assured that having Baghdad University as a supporting and consulting side for educational projects executed through private investment represents a solid basis for guarantying quality education in Iraq.
She added during her visit to the chancellery premises of Baghdad University in Jadiriyah on Tuesday 16th of August and her meeting with the Chancellor Dr. Munir Hameed Al- Saadi, that the honorable history of Baghdad University that traces back to the fifties of the last century makes it super qualified to be a supporting and supervising side for a large number of investment projects in Baghdad and other provinces according to the type of these projects.
Dr. Munr Hameed Al- Saadi, in his turn, assured that the meeting included discussing the governmental plan for 2030 and the expectations to witness large increase in the number of
students who will register for high education and taking the necessary futuristic actions represented by creating additional educational seats for the expected numbers in both public and private sector universities.