After Taking up the Responsibility as NIC Chairman
Suha Dawood Najar Visits a number of investment projects Sites in Holy Kerbala Province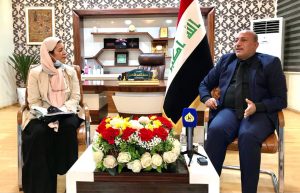 NIC Chairman, Suha Dawood Najar started on Thursday 24.09.2020 an elaborated field visit to a number of investment projects sites in Kerbala Province starting with Imam Hussein Hospital for cancer diseases where she assured that the achievement of this project supervised by the Husseiny Holy Threshold in Kerbala province shall contribute a lot in optimizing the health reality in the city, the matter that put us in front of a professional and ethical responsibility of accelerating the implementation by removing all the obstacles that hinder it.
She listened to a detailed explanation from those in charge of the project regarding the designs and the achievement rates and the problems they are facing to complete the work represented by the task of receiving the remaining medical devices in coordination with the concerned departments in the state and they were promised by the NIC Chairman to take the necessary actions required to facilitate these measures.
NIC Chairman also met with Shekh Abdul Mahdi Al- Kerbalaey- the reprfesentative of the Religious Marjieayah and the secretary of Holy Husseiny Threshold at the threshold where she was honored by visiting the holy Grave of Imam Hussein (Peace be upon him), in addition to meeting the governor, Mr. Nsaief Jasem Al- Khitabi at the Governorate premises.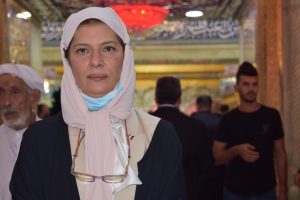 She showed her high gratitude and appreciation for the efforts of the Holy Husseiny and Abbasy thresholds and the local government in sustaining the work in the investment projects, promising to provide all kinds of support to guaranty the smoothness of the work and its continuation.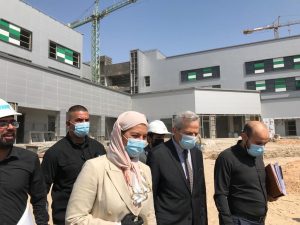 Engineer Muhammed Taher, the representative of Khairat al- Sebtain Co. which is in charge of executing the project of Imam Hussein Hospital clarified that the hospital consists of 4 buildings the first represents the main hospital on a total area of 6000 m² and of 4 floors that contains consolatory clinics, a pharmacy and a hall for chemical therapy in addition to 2 operations halls , labs and blood bank, the main hospital contains also 82 patient beds while the second and third buildings are made of 5 floors devoted for the patients' companions accommodation and the medical staff with 90 total apartments , the fourth building shall be allocated as a center for the Radiant Iodine, assuring that the treatment shall be subsidized for the armed forces and free for the needy.