In preparation to conclude investment contract with Uraifi Suadi Group
NIC Chairman Dr. Haider Muhammed Makkiyah assures..
Completing the needed requirements to grant investment license for Jadet Baghdad project in its residential and commercial sides
With the attendance of the concerned sides, Discussing obstacles facing the project and finding the suitable solutions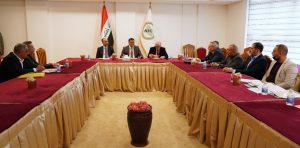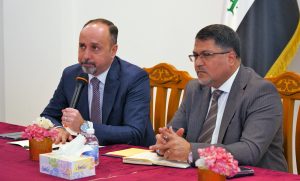 An expanded meeting has been held today Monday, 6th of Feb. 2023 at the premises of NIC presided by Dr. Haider Makkiyah, NIC Chairman and Mr. Ammar Mousa Kadhum, Mayor of Baghdad with the representatives of Uraifi Suadi Group.
During the meeting they discussed the most important steps needed to be taken by the concerned sides to go forward with the construction and development of Jadet Baghdad project in its residential and commercial sides, the project that had already been granted a license by NIC in the year 2021.
NIC Media office added in a statement that the company had received the 600 donum land specified for the mentioned project in two separated parts in order to launch the process of leveling and contouring the site after completing the possession contract for the residential part of the project with Baghdad Mayorship (the possessor of the land)
The company was also provided with draft of the investment contract in order to study it and convey their notes before signing it in the coming period.
A detailed presentation of the most prominent obstacles facing the project implementation was presented during the meeting to discuss taking the necessary actions to solve these obstacles and facilitate procedures.