The medical clinic in Bismayah project site opens 24/7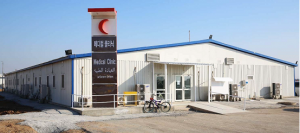 Bismayah project management is keen to provide all comfort and safety means to all workers through opening a medical clinic in the project site that provid its services 24/7.
The clinic is run by a specialized Iraqi and Korean medical cadre who provide the needed services to approxamatly 98% of injuries taking place during or after worktime beside conducting some small operations with high medical care while only 2% of injuries are taken to Baghdad hospitals. An emergency lounge is also available in the clinic in addition to constructing a dental clinic while all departments are supplied with the most modern medical equipment.