The National Investment Commission … begins implementing a new entrance to the city of Bismayah
To ease traffic congestion at the current entrance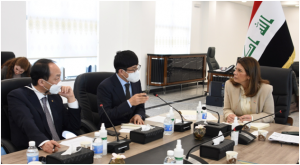 Chairwoman of the National Investment Commission, Suha Daoud Najjar, confirmed that the high demand of citizens to buy housing units in Basmaya project, in addition to demands from a number of ministries and government agencies, called on NIC to announce the cessation of selling housing units now in preparation for organizing the upcoming sales mechanisms.
She added that the branches of the three banks (Al-Rafidain, Al-Rasheed and TBI) concerned with the sale of housing units for the Bismayah housing project, had witnessed a great turnout after the issuance of the instructions to reduce the down payment to (10%) of the value of the housing unit and for all areas and extending the payment period to (25 ) years based on the decision of the Council of Ministers on November 10, 2020
Announcing the inclusion of the road project linking (Baghdad – Basmaya) within the budget of the Ministry of Construction and Housing for the year 2021 and the formation of a joint working team with the ministry to study the commencement of road works and in the form that ensures its implementation according to the designs prepared for it, and this represents a great support for the project, especially with the increasing number of residents and Traffic jam at the current entrance.
Also she indicated that South Korean Hanwha Company began to implement the work of grading and preparing the land for Gate No. (4) located between Block B1, A3, with a length of 230 meters and a width of 34 meters after reaching an agreement with the owners of the lands adjacent to the second entrance It is hoped that it will be completed within the next five months, with the activation of the electronic gate for residents to enter the city.