During the Provincial Investment Commissions meeting,
The National Investment Commission Chairman emphasizes on integrating the Board of Directors in each commission and follow up the granted investment licenses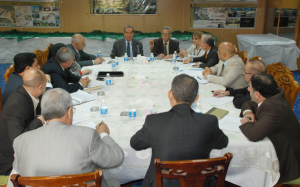 Dr. Sami R. Al Araji, NIC Chairman, emphasized Mon. 1st June 2015 during PICs meeting on integrating their Boards of Directors according to investment law no. 13 of 2006 in addition to following the granted investment licenses up in each province and apply legal actions against investors when violating instructions.
He also stressed the importance of giving a clear and precise picture concerning the allocated lands for investment in their provinces. investors must start their projects within a maximum of six months in the absence of any technical or administrative problem which can be solved by the PIC granting the investment license, otherwise investors are to be warned and license shall be then withdrawn if manipulation or lack of seriousness of the investor in the implementation of the project is proven which can cause harm to the province.
He referred to the importance of counting all allocated lands for investment in each province and re-announce and adjust the withdrawn opportunities of the delayed projects to fit with the province need, calling the PICs directors to undertake the full legal responsibility and not submit to pressures and deals that may prevent reconstructing their provinces.
He added that NIC was able to achieve the investment map for 2015 which included 920 investment opportunity from all ministries in 15 provinces in different economic sectors and according to provinces nature. Dr, Sami asked PICs directors to nominate the most important opportunities mentioned in the investment map to be focused on and consider them as a priority in local and international investment conferences and forums and other promoting means.
NIC Chairman listened to a number of problems and challenges relevant to the above mentioned issues and discussed them with PICs directors to reach solutions that serve well the investment process in Iraq.