Attended by Vice PM Mr. Al Mutlaq and a number of officials
The National Investment Commission opens Bismayah Marketing Tower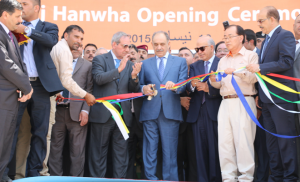 NIC opened Bismayah Marketing Tower on Sunday the 12th of April which was attended by high governmental representation. Vice PM, Mr. Salih Al Mutlaq, Minister of Municipalities Mr. Abdul Kareem Al Ansari, Secretary General of the Council of Ministers Mr. Hamid Khalaf, Chairman of Investment and Economy Committee Mr. Jawad Al Polani, Baghdad Governor Mr. Ali Al Timemi and a number of vice ministers, consultants and director generals were there in the opening ceremony.
Mr. Vice PM said, "Bismayah project is unique in its modern design which saves great time and effort in security and services. Also, it provides an opportunity for people to move away from overcrowded big cities as in Baghdad. Accomplishing this project is going to participate in solving the housing crises Iraq is facing, we need 2.5 million housing unit which obliges the governmental and legislative bodies to provide facilities and incentives to investors for more investment projects in housing and other sectors."
He also called for international and local engineering investment companies to take part in developing and housing projects in Iraq assuring them that GoI is ready to present all required facilities and ease contracting difficulties within the law frame.
Chairman of Investment and Economy Committee Mr. Jawad Al Polani, was pleased to witness such kind of new cities and described the project as a good thing to come and represents a true call for improving the life style in our society. He was convinced that Baghdad needs four similar modern cities like Bismayah in addition to other provinces requirement for such modern housing emergence.
Mr. Polani added that the GoI is focusing on investment as it is considered the second Ministry of Oil. Iraq is experiencing new circumstances and its potentials require fast steps towards new options represented in such kind of huge housing type, especially when choosing the right company that matches with the Iraqi economic ground. He thanked NIC and S. Korean Hanawah Co. efforts in accomplishing this complete modern city.
Dr. Sami R. Al Araji confirmed in his speech in the opening ceremony that this housing monuments in Baghdad is one of many other monuments we planned to execute in all Iraqi provinces. This project is a national project based on investment mechanism that depends on Iraqi citizens and banks and solid foreign companies. He also mentioned that more is yet to come in north Baghdad and other provinces.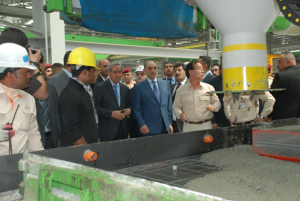 Dr. Sami also said that "Hanawah and NIC are committed to deliver 7 thousand housing unit with services at the end of this year after we signed the services contract with the same company based on two plans, one goes along with the project as a whole while the other intensive one goes with the first delivery. 20 thousand housing unit will be delivered annually starting from next year."
Regarding services and other parts of the projects, NIC Chairman cleared out that NIC discussed with Hanawah leaders building the Commercial Center in the city center with other services such as speed buses and train which will be provided for residents. Transportation issues will be an investment file with the private sector serving more than 600-700 thousand persons from and to the city.
Hung John Kim, Hanwha Vice Chairman, confirmed his company commitment to execute the project in time saying that his staff is ready to continue working day and night to finish the housing units and service facilities such as schools, clinics and playgrounds according to the contract signed with NIC.
He also thanked GoI and NIC for the facilities presented for investors wishing to work in Iraq appraising the trust given to his company by the Iraqi people and its government.
The tower contains marketing offices and big halls with real size for all modern and traditional apartments in addition to panorama view at the top of the tower that provides a full view of the whole city for visitors.
The company declared continuing the work to finish more than 3 thousand housing unit during the coming days and starting another 7 thousand through foundation construction and going up building the first floors. Water and sewage pipes, main roads and street lights lamp posts are done in block A. Bismayah city has wide road net connecting housing buildings and 8 main areas with each other. Paved roads and streets were established over complete infrastructure and services underground system.