In Preparations for participating in Kuwait International Conference for Iraq Reconstruction
The National Investment Commission organizes an experimental exhibition for the investment opportunities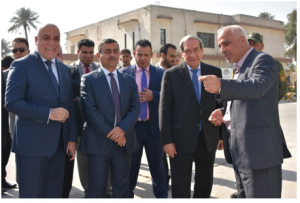 The National Investment Commission organized in its headquarter Wed. 7th Feb 2018 the second experimental exhibition for the investment opportunities to be presented in the Kuwait International Conference for Iraq Reconstruction
The Chairman of the National Investment Commission Dr. Sami Al-Araji confirmed during the exhibition, which was attended by the Secretary-General of the Council of Ministers Dr. Mahdi Al-Alaq, Mr. Abdul-Karim Al-Faisal, Chairman of the advisers and the scientific adviser to the Prime Minister that the presentation of investment opportunities in this large international forum will be a great opportunity to attract capital and investments to Iraq,
This active participation will cover (10) sectors, including projects in the areas of petrochemicals, fertilizers, engineering, construction and agricultural industries in addition to important projects in the sector of transportation, housing, infrastructure and other strategic projects in all provinces, especially areas liberated from ISIS.
He also expressed his thanks and appreciation for the efforts exerted by the Kuwaiti Ministry of Foreign Affairs and the Iraqi Ministry of Foreign Affairs, the embassies of Iraq and Kuwait in both countries and all companies participating in the exhibition.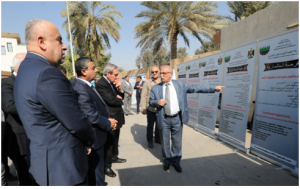 The Secretary General of the Council of Ministers reviewed the various promotional forms of the investment opportunities to be presented and added a number of important notes to ensure effective Iraqi participation, pointing out the existence of a comprehensive database on the official website of the General Secretariat of the Council of Ministers containing all information related to the investment opportunities to be presented during the conference, Thanking the National Investment Commission for its efforts in the preparations for the conference.
A number of companies in the public and private sectors, including the Ministry of Industry and Minerals (cement, electricity, steel, heavy engineering, metallurgy, etc.) participated in the exhibition. Also a number of businessmen and private sector companies such as the Union of Contractors and the Iraqi Economic Community, the National Holding Group, Sardar Group of Commercial Agencies and the National Business Council, as well as Al-Masar Contracting and Solidarity for Insurance.