The National Investment Commission, Parliamentary Investment & Development Committee, and S.K Hanwha Co. meets together with the S.K Ambassador to move on with Bismaya Project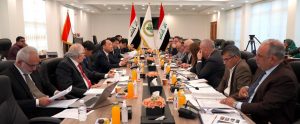 Positive outcomes of the meeting to continue working in Bismaya residential project
Salar Ameen: the Iraqi |Government is interested in completing the project
Ameen: Regaining trust between both parties is the first step to move on with the project and reach the 100 k unite
The National Investment Commission held a joint meeting on Wednesday, attended by Mr. Salar Muhammad Ameen, Chairman of the Commission, and members of the Parliamentary Investment and Development Committee, with the S.Korean side represented by the director of Hanwha Co. and his accompanying delegation, in the presence of His Excellency the South Korean Ambassador in Baghdad.
At the beginning of the meeting, Chairman of NIC welcomed the resumption of discussions that pours into the interest of the project and does not cause harm to either party, expressing the government's interest of the project details and its desire to overcome disputes between the two parties under its direct supervision.
Members of the Parliamentary Committee were briefed on the financial, legal and technical details of the project and points of contention between the two parties, stressing their continued support for any effort that pours into the return of this vital and important project that serves the Iraqi economy and contributes to meeting part of the growing need for housing units..
The meeting was full of positive air and all agreed to solve the existing problems and to reach early solutions to the return working in the project under the necessary settlements.
The Korean side presented a detailed offer including proposals to return working on the project according to technical and legal phases mechanisms that will be studied by the Iraqi side in preparation for the resumption of work on the project.
technical ,financial and legal officials from both sides attended the meeting.
=============
Department of Relations and Media – National Investment Commission
7 – December – 2022