In the framework of preparing to announce several projects in Baghdad and its adjacent districts
Suah Dawood Najar .. we work with Baghdad Municipality as a one professional team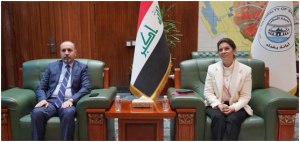 NIC Chairwoman, Suha Dawood Najar, assured that NIC is working as a one professional team with Baghdad Municipality aims at going forward with the new investment projects in and around Baghdad and one of these projects is Al- Rafeel City citing in the BIAP surrounding area.
She stated during her meeting with Baghdad Mayor, Eng. Ammar Mussa, on Tuesday 16th of August that an agreement has been reached with the Mayor to hold a series of periodical meetings between the concerned teams from both sides to facilitate procedures of obtaining approvals on usages and fundamental designs of the new cities in Baghdad and committing to implement infrastructures for these projects and the roads nets connecting
them to Baghdad and other provinces, in addition to discussing other preparations needed for the post licensing stage.
She considered this high level coordination between the two sides an important start for further supporting projects in and around the capitol.
Mayor Eng. Ammar Mussa, in his turn, showed that this meeting came to discuss a number of obstacles facing the implementation of big projects and during which solutions have been found to contribute in accelerating achieving these projects that represent a civilized exposure for the capitol through obtaining the required approvals from the Ministers' Council Secretariat. He also assured that continual periodical meetings shall take place between the two sides reflecting the seriousness to have all projects fully accomplished surpassing any likely distractions.