The National Investment Commission (the "NIC") is committed to bringing opportunities to the investor community that are essential to the Iraqi citizens, provide growth and development for the country and offer significant returns on investment. In line with these goals, we at the National Investment Commission are proud to be presenting this…
More
Investor Guide
Iraq is open for business
Iraq has changed. As normal life begins to resume, economic activity has revived. Demand for all types of goods and services is growing fast. The focus is on reconstruction as the government rebuilds essential infrastructure, from power and water utilities and transport infrastructure to residential housing. At the same time, the government is investing in the essential economic infrastructure; including oil fields and the mid- and downstream pipeline, petrochemical, and fuel distribution sectors.
Iraq presents a huge commercial opportunity across a broad range of sectors. After five years when security was the dominant issue in Iraq, the country has now entered a new, positive phase. As the Iraqi government and security forces have stepped up their capacity, the environment for trade and investment has transformed for the better. Millions of Iraqis now have the freedom to live, to trade, to work and to travel. Security improvements are now substantial and tested. There have been notable improvements in the regulation of the business environment. The private sector has grown more important and, for the first time in decades, Iraq is open to foreign investment. These factors combine to create opportunities for trade and investment on an unprecedented scale.
To attract foreign investment into Iraq, generous benefits, guarantees and exemptions have been set out in Iraqi investment laws. Qualifying investments are eligible to:
Receive 10 years exemption from taxes.
Repatriate investment and profits from investments.
The right to employ foreign workers when needed.
Obtain three years exemption from import fees for required equipment.
The guarantee that the government will not nationalize or confiscate investments.
Select a category to the left to begin learning more about the investment process in Iraq.
Investment Licensing Procedures
The NIC has established a "One Stop Shop" (OSS) department to help investors obtain investment licenses through the procedure shown below:
Investors submit a request to the NIC indicating a desire to invest, including the proposed investment sector and geographic area. This request shall be made via a standard form which is available from the NIC directly or on the NIC website (www.investpromo.gov.iq).
Foreign investors must include a certificate of good standing from a certified bank.
Investors may include a list of projects completed both inside and outside Iraq.
Investors must provide details of the investment project, including an economic and technical feasibility study.
Investors must provide a timetable for executing the project.
Once these materials are received, the NIC shall execute the investment license in a period of time not exceeding 45 days from the date of submittal. The diagram below illustrates procedures for obtaining an investment license:
Responsible Party
Responsibility
Time (days)
Investor

Complete investment application
Conduct feasibility study
Obtain bank certificate

Egypt
NIC One Stop Shop

Review completeness of package
Conduct first review of feasibility study
Send to relevant ministries

10 days
Relevant Ministry

Complete review of feasibility study

15 days
Investment License Granted
Legal Registration
The Companies Law 21 (1997) and CPA Public Notice 9 (June 2003) allow Iraqi entities to establish direct trading entities with foreign companies.
Foreign companies are free to open a branch or office; however they are required to register their office with the Ministry of Trade's companies registrar and to obtain a Business ID number.
Registering Companies in Iraq
The Trade Law, No. 30 (1984), the Companies Laws, No.21 (1997), and Public Companies Law, No.22 (1997) regulate all incorporation and trade activities for Iraqi businesses. Follow the procedures below to register a company in Iraq:
Determine what category the company in question belongs to, according to the Companies Law, No. 21, 1997. This law divides companies into the list of Varieties of Legal Companies in Iraq.
Fulfill all required registration procedures:

Register a trade name with the relevant trade chamber or the union of trade chambers.
Submit a contract signed by the founders of the company, stating the name of the company, its activities, and its capital.
Deposit appropriate capital for the company, in IQD, at an authorized Iraqi bank and notify the Companies Registrar.
Pay all fees required to register the company with the Companies Registrar. Please see http://www.motiraq.org/registration.aspx.
For joint stock companies, submit the subscription certificate, signed by the founders, and the company's feasibility studies.
Define the commercial and technical activities of the incorporating company to be included in the contract for incorporation.
Obtain approval of the Minister of Interior for all foreign shareholders.

After the company is founded:

Employ a legal advisor (attorney) for the company from the Bar Association.
Employ a chartered accountant form the Chartered Accountants and Auditors Association.
Appoint an Executive Manager.
Local Partnerships
The recommended entry strategy for many investment projects is through a local Iraqi partner. As the country continues to refine its investment laws and bring stability to its political, security and economic activities, local partners serve as good option to expedite and navigate the legal, regulatory and physical landscapes of Iraq.
Local partners can access to vital market knowledge; navigate regulatory requirements; provide labor and other inputs at competitive rates; utilize pre-established sales network; and maintain other necessary business relationships, i.e. banking, legal, and distribution, which are critical to the success of an operation.
Iraq's Bilateral and Multi-Party Agreements
Iraq signed a trade agreement with the United States on August 11, 2008, designed to improve trade and investment flows between the two countries. Iraq is a party to the Multi Investment Guarantee Agreement (MIGA), and currently serves as an observer in the World Trade Organization (WTO). In addition, Iraq is currently party to nine separate multiparty agreements within the Arab League, as well as 32 other bilateral agreements worldwide.
Iraq has also concluded Free Trade Agreements with the following countries: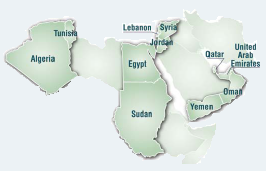 | | |
| --- | --- |
| Algeria | Egypt |
| Jordan | Egypt |
| Oman | Qatar |
| Syria | Sudan |
| Tunisia | UAE |
| Yemen | |
Additionally, negotiations for investment agreements are underway with the following countries: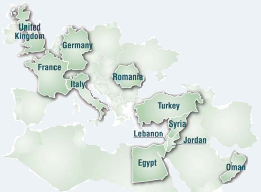 | | |
| --- | --- |
| Egypt | France |
| Germany | Italy |
| Jordan | Lebanon |
| Oman | Romania |
| Syria | Turkey |
| United Kingdom | |
Iraq also has become the 160th country to sign the convention and the 152nd country to become a member of the international center settlement of Investment Disputes (ICSID)
Taxation
In 2004, the Coalition Provisional Authority introduced a flat tax of 15% on all income earned by Iraqi and foreign companies. Income derived from foreign government sources, international organizations, and non-governmental organizations (NGOs) is not taxable. A flat sales tax of 10% is applied to "excellent and first class" hotel and restaurant accommodations.
Further information can be obtained from the Ministry of Finance, General Commission for Taxes: http://www.iraqtax.org/.
Free Zones in Iraq
The Free Zones law No.3, 1998, allows industrial, commercial, and service project investment in special zones designated "Free Zones". Goods imported and exported from Free Zones are exempt from all taxes and fees, except when imported through customs. All capital invested, as well as interest and income generated, by projects established in Free Zones are exempt from taxes and fees throughout the lifetime of the project, including construction and start up phases. To apply for approval to begin a project in a Free Zone, investors must submit a request and pay a $100 USD fee to the Free Zones Board. Further information can be obtained directly from the Free Zones Board: www.iraqifreezones.com.
Iraq has two Free Zones:
Basrah / Khor Al-Zubair
Ninewah / Flaifil
There is an additional designated free zone in Anbar/Al-Qaem, however as of September 2009, investors and infrastructure do not exist.
The Free Zones law enables the following activities in Free Zones:
Industrial activities, including production, sales, assembly, manufacturing, and repacking.
Warehousing for re-export and trade.
Warehousing services.
Transportation services.
Banking, insurance, and re-insurance.
Professional support services for the industrial activities listed above.
Iraq's Banking System and Currency
There are 43 banks licensed to operate in Iraq. Of these, 36 are private banks, including eight Islamic banks and those that are branches of foreign banks. The remaining seven banks are state-owned (Rafidain, Rasheed, Iraq Socialist Bank, Agriculture Bank, Trade Bank of Iraq, Real Estate Bank, Industrial Bank).
Most banks have active Society for Worldwide Interbank Financial Telecommunication (SWIFT) connections and all banks are connected to the Iraq Payments System operated by the Central Bank of Iraq and therefore able to transact domestic payments.
Iraq has nine banks with full electronic funds transfer (EFT) capability including SWIFT, domestic payments systems, and core banking systems. These EFT capable banks have almost 200 branches throughout the country. ATMs and Point of Sale terminals are also being put in place nationwide.
The minimum capital requirement to establish a bank in Iraq is 100 B IQD, approximately $85 M USD. Banking investments in Iraq are governed by the Law of the Central Bank of Iraq, No. 56, 2004, and the Law of the Banks, No. 94, 2004. The Central Bank of Iraq may be contacted for more information: www.cbi.iq.
Currency
The unit of currency is the Iraqi Dinar (IQD). The exchange rate in September 2009 was $1 USD: 1,170 IQD. The Central Bank of Iraq has a policy of managed appreciation of the dinar. In April 2008, the exchange rate was $1 USD: 1,203 IQD. The most widely recognized foreign currency is the U.S. dollar. Although ATMs are being installed throughout the country, currently there are few available and credit cards are not widely used.
Response Proces
The Investment Law No. 13, 2006, permits non-Iraqis to trade stocks and bonds listed on the Iraq Stock Exchange (ISX) and to form investment funds to own stocks and bonds.
The ISX opened in 2004, replacing Baghdad Stock Exchange (BSX) which launched in 1992. The ISX, in cooperation with NASDAQ-OMX, launched an electronic trading system on April 19th, 2009.
ISX operates under the oversight of the Iraq Securities Commission, an independent commission modeled after the U.S. Securities and Exchange Commission.
As of September 2009, the combined market capitalization of the 91 companies listed on the Iraq Stock Exchange was $2.5 B USD, with the average trading volume approximately $10 M USD per week.
As of September 2009, 79 of ISX's 91 listed companies were available for electronic trading, while the remainder continue to be added. ISX holds three electronic sessions on a weekly basis: on Sundays, Tuesdays and Thursdays. Electronic trading has provided greater transparency, more rapid dissemination of information, and greater liquidity.
A proposed law creating a stock market commission is being drafted.
Trademark, Patent, and Copyright Protection
Trademark Protection
The government of Iraq is committed to protecting internationally recognized trademarks, even if not registered in Iraq.
Investors may register new trademarks with the Trade Marks Registrar, in the Ministry of Industry and Minerals (MIM). Please visit: http://www.industry.gov.iq/?id=trademark
Investors may transfer ownership and grant licenses for use of a registered trademark.
Iraqi laws protect registered trademarks for 10 years.
Investors may extend for a further 10 years, if the trademark holder re-applies within six months of expiration of the trademark validity.
Patent Protection
The following restrictions apply to patent protection in Iraq.
Approval to register an industrial design or a model patent will only be given for new or novel individual designs or models. Industrial designs will not be considered novel if the item or process:
Was disclosed or made public before the designer submitted an application for patent registration in Iraq.
Was disclosed or made public after the designer submitted an application for patent registration in a country dealing reciprocally with Iraq.
Was disclosed or made public in national or international fairs, or a scientific conference or journal, at any time in the six months before application submission in Iraq.
Includes only basic differences from a previous design or model, or was registered to a previously registered similar product. For further information, please contact the Ministry of Industry and Minerals.
Copyright Protection
Iraq endeavors to provide authorship and copyright laws meeting current international standards and WTO requirements. Currently, the Intellectual Ownership Board of the Ministry of Culture oversees copyright registration. The regulations state:
The law applies to authors of novels and literature, and of works in art and science.
The author is considered the person to whom the book is attributed.
In the case of translated works, authorship rights attribute to the author unless agreed otherwise.
Short stories or other literature, videos, or scientific books may not be published in newspapers or other periodicals without permission of the author.
Copyrights last for the lifetime of the author, plus an additional 50 years.
Worker's Retirement and Social Pension Organization
All companies must register with the Ministry of Labor Worker's Retirement (WR) and Social Pension Organization (SPO) before beginning any activities. Companies must deposit funds equal to three months estimated social security deductions for all employees. Investors will then be given a receipt voucher from the Ministry certifying the payment as well as the social security number issued to the company.
Generally, this first step requires at least a week. Social Security dues equal to 17% of an employee's wages shall be paid quarterly. Employers are responsible for 12%, with the remaining 5% paid by the employee. Payments should be made by employers to the WR and SPO by certified check. Please visit www.molsa.gov.iq for more information.
Customs Law
The original Customs Law, No. 77 of 1955, placed the initial customs tariff imposed on goods imported to Iraq. This Law was suspended after 2003 and replaced by a 5% reconstruction fee on the value of goods imported to Iraq. Under the Investment Law, any projects initiated through NIC, or established in a Free Zone, will be exempt from this tariff for a period of time, as determined by import type. Additionally, several categories of goods are exempt, including food products, medicines, clothes, books and transit goods.
The Government of Iraq has drafted a new law on tariffs that will adopt the Harmonized System and apply modern WTO standards for calculating tariff rates for imported goods. This legislation is expected to pass the Iraqi parliament in 2010. Iraq was granted WTO observer status in 2004 and hopes to gain membership in 2010.
Quality Standards
Iraq is a member of the International Organization for Standardization. The Central Organization of Standardization and Quality Control (COSQC) is responsible for monitoring product standards in Iraq. COSQC inspects local goods according to health and safety parameters.
COSQC's contact information:
Tel: +964 1-776-1980
Fax: +964 1-776-1981
E-mail: cosqc@yahoo.com

Investing in the Kurdistan Region of Iraq
The Board of Investment (BoI), formed in the Kurdistan Region, has taken important steps to attract foreign capital and encourage local investment. Investors interested in tourism, residential, and industrial projects have been attracted to the wide variety of opportunities the region has to offer because of its resources, security, and stability.
The BoI has implemented a variety of residential and hotel projects, established private universities such as the American University, and constructed power plants and various other industrial projects.
First Amendment to Investment Law 13
The Iraqi Council of Representatives approved the first amendment to Investment Law 13 on October 13, 2009. Highlights of the amendment include:
Permits foreign investors to own land exclusively for housing projects.
Secures privileges for public and private partnerships, especially those partnering with State Owned Enterprises
Details the organization and support to the Provincial Investment Commissions (PICs)
Grants the NIC power to assign land that has been given to it by other Ministries to housing developments projects.
Food Safety and Agricultural Inspection Requirements
The Ministry of Agriculture inspects all agricultural products and livestock, as well as issues health certificates for livestock. The Ministry of Health inspects and issues health certificates for manufactured food products. Details of these regulations may be found at the websites of each Ministry.
Other Protections
The Council of Representatives passed two laws on January 12, 2010. One law was passed regarding the protection of domestic products and enacts tariffs on imported goods to encourage local production and industry development.

The second law focuses on encouraging competition and preventing monopoly by reducing costs and improving the quality and price for goods and services offered in the market. It aims to promote the public, private and mixed sectors and to improve the flow of goods and services.

.